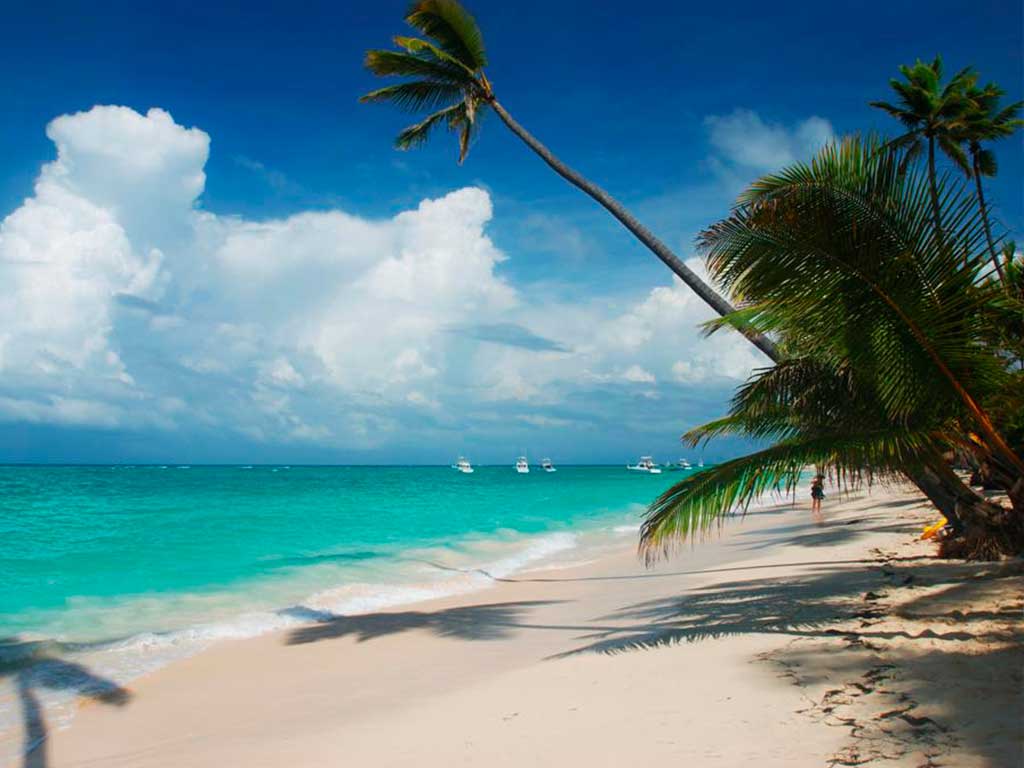 CLIMATE
The Dominican Republic enjoys a tropical climate all year round, with average temperatures ranging from 66° to 93° F (19° to 34° C). The coldest season is between November and April, and the hottest season is between May and October. August is the hottest month.
TIME ZONE
Local time is GMT -4. It is an hour ahead of Atlantic Standard Time in the United States in the winter. Unlike the United States and Europe, the Dominican Republic does not observe daylight saving time.
LOCATION/GEOGRAPHY
The Dominican Republic occupies the eastern two-thirds of the island of Hispaniola, which it shares with the Republic of Haiti. The country is the second largest in the Caribbean region, with a surface area of 18,533 square miles  (48,442 square kilometers). Located in the heart of the Caribbean, the Dominican Republic is surrounded by the Atlantic Ocean to the north and to the south by the Caribbean Sea.
CAPITAL CITY
The capital of the Dominican Republic is Santo Domingo, the oldest city in the New World. Greater Santo Domingo has a population of around three million people.
POPULATION
The population of the Dominican Republic is 9,378,819 (2010 Census).
LANGUAGE
Spanish is the official language of the Dominican Republic. However, you'll be surprised how many hotel and tourist destination employees speak English, French, German and Italian. If you decide to venture out of the tourist areas, it is helpful to learn some basic phrases in Spanish.
CURRENCY
The Dominican Peso (RD$) is the official currency of the Dominican Republic. You can find the peso exchange rate for several international currencies at www.bancentral.gov.do/tasas_cambio/TMC4001.PDF
Major credit cards are accepted at most tourist locations, but it is best to check in advance at small hotels, restaurants and shops.
ATMs are located in almost all of the Dominican Republic's cities, as well as at most resorts. Large supermarkets have ATMs that are open until late.
TOURISM STATISTICS
4,464,643 non-resident foreigners flew to the Dominican Republic in 2014. A further 676,734 non-resident Dominicans also chose to visit in 2014. The Dominican Republic received 19.5% of the record number of 26.3 million visitors to the Caribbean region in 2014.
Most air arrivals landed at the Punta Cana airport, 65.3% of all air traffic. Santo Domingo was the second destination of arrivals with 18.5%, followed by Puerto Plata 8.1%, Santiago 4.4%, La Romana 2.4% and Samaná 1.2%.