Juan Dolio
More than a beach town
Guayacanes and Juan Dolio are beach towns that mainly cater to residents driving in from Santo Domingo on the weekends for the beach, attracted by the very good restaurants and good golf. Two large residential communities, Metro and Guavaberry, plus a handful of recently constructed apartments, and its hotels keep the community alive during weekdays.
Juan Dolio is also an option for visitors wanting to make side trips to see Santo Domingo and La Romana attractions, both around an hour west or east. Las Americas International (SDQ) is the recommended port of entry for those headed to Juan Dolio hotels.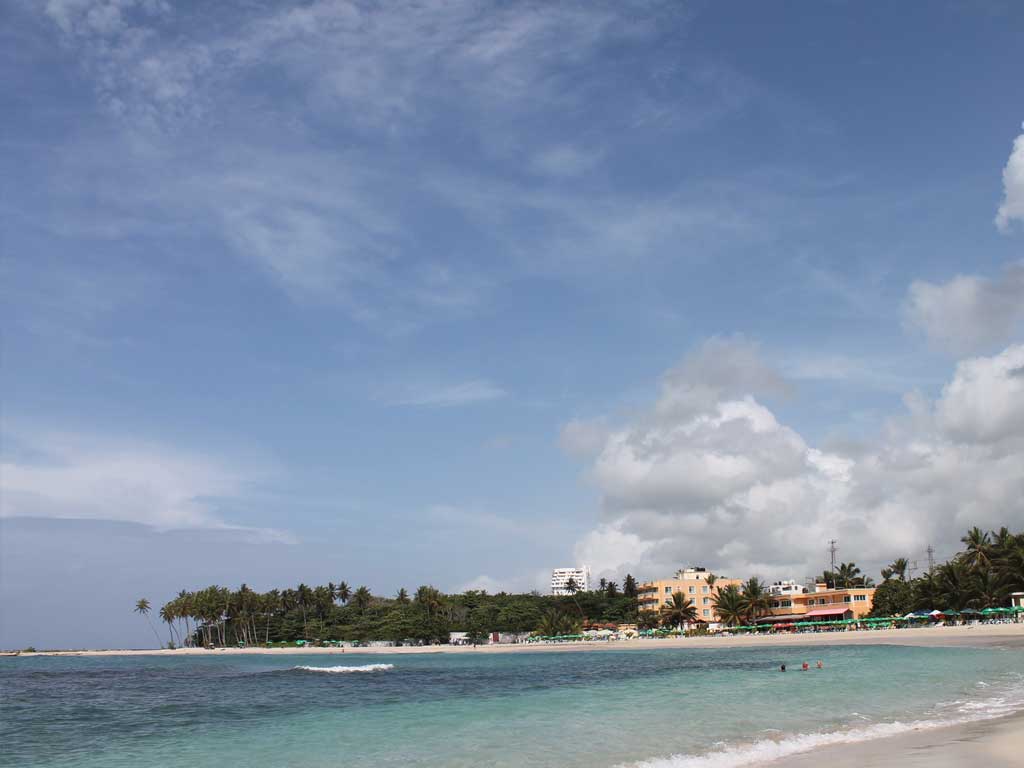 PLAYA JUAN DOLIO
This beach has both waves and calmer areas. Juan Dolio has two roads – Calle Principal and the Boulevard, around which most of the residences and restaurants are located. In recent years, high-rise beachfront apartments have gone up that cater to affluent city dwellers who drive in on weekends, attracted by the many good restaurants. Go for the sunset, and stay for dinner.
PLAYA GUAYACANES
A yet to be developed beach town. Its golden sand beachfront is walkable and fronts beach homes. Good beach shoes are recommended because there are some rocks on the way. It is a lovely stroll to do early in the morning with the rising sun or late in the afternoon to see the sunset.
JUAN DOLIO NIGHTLIFE
Eating at the many good restaurants in Guayacanes at Calle Central and Juan Dolio at the Boulevard or Calle Principal, with or without a view, brings thousands of city residents to this beach area, especially on weekends. Many of the restaurants double as bars and lounges. Try your luck gambling at Dream Casino at the Coral Costa Caribe resort in Juan Dolio.
CUEVA DE LAS MARAVILLAS
The Cave of the Wonders is located west of La Romana on the San Pedro de Macorís-La Romana highway, near the Soco River and Playa Nueva Romana. It has some of the best and most numerous examples of indigenous Taino rock art (dating back 500 to 800 years) found in the eastern part of the island. Around 500 paintings and engravings on rock have been counted and many can be seen on the 787-foot (240-meter) trail inside the cave. The cave art shows human figures, iguanas, snakes, owls and bats. Visitors will go down 82 feet (25 meters) to the cool inner chambers of the earth. The path can be covered in around an hour and is recommended on days of intense heat or rain.
LOS MARLINS GOLF COURSE
Los Marlins is part of the Metro Country Club residential complex in San Pedro de Macorís, half way between Santo Domingo and La Romana. It's a fairly short course, just 6,410 yards from its blue tees. However, players who know it well warn that it should not be taken lightly. That's because some of the fairways are extremely narrow and others are protected by sand traps and water. Its signature hole is the 4th hole, a 193-yard par 3 from the white tees. It's a totally straight hole with out of bounds on both sides. Because its very small green is surrounded by traps, this hole is difficult even for the most professional of golfers.
Location: Metro Country Club, Boulevard de Juan Dolio
GUAVABERRY GOLF & COUNTRY CLUB
Located 30 minutes east of the Santo Domingo airport and close to the Juan Dolio tourist area, the course borders a tropical forest and nature reserve. The 13th hole is its signature hole, a par 3 with a crystal-clear waterfall that can distract even the most expert golfers. The 16th hole, for example, blends right into a natural tropical forest. The final hole then provides a different challenge, asking you to play against strong crosswinds that come from 200,000 year old coral rock formations. The course is located at the center of the Guavaberry residential development.
Location: Autovía del Este Km. 55, Juan Dolio