FAMILY WEEKEND BY FUNDACIÓN MIR / Aug 12 – 13, 2016
La Romana: Casa de Campo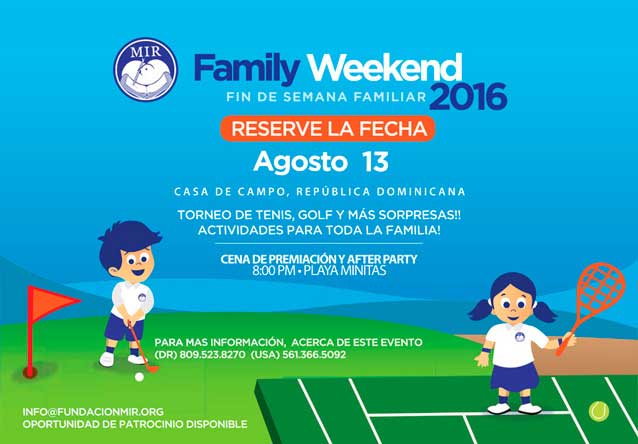 FAMILY WEEKEND BY FUNDACIÓN MIR
Aug 12, 2016 – Aug 13, 2016
La Romana: Casa de Campo – Resort & Villas
Welcome Party – Genesis Club, Altos de Chavon (Friday)
Tennis Clinics for Kids – 10:00 Am, La Romana Country Club (Saturday)
Golf Tournament – 1:00 Pm, La Romana Country Club (Saturday)
Dinner & Dancing Awards Dinner – 8:00 pm La Romana Country Club (Saturday)
After Party Featuring Dj Gringo From Miami (Saturday)
Attire: Tropical Chic (Saturday)
The event begins with a Welcome Party on Friday night August 12th at the disco in Altos de Chavon – Genesis.
Saturday, 13 August we will have several sports activities for the whole family – (tennis clinic for children, Tennis Tournament for adults in Terrace Tennis Club and Golf Tournament in La Romana Country Club.
Saturday night, the event ends with the awards dinner in Playa Minitas, with the Orchestra and DJ Gringo Dekadas Miami for the After Party.